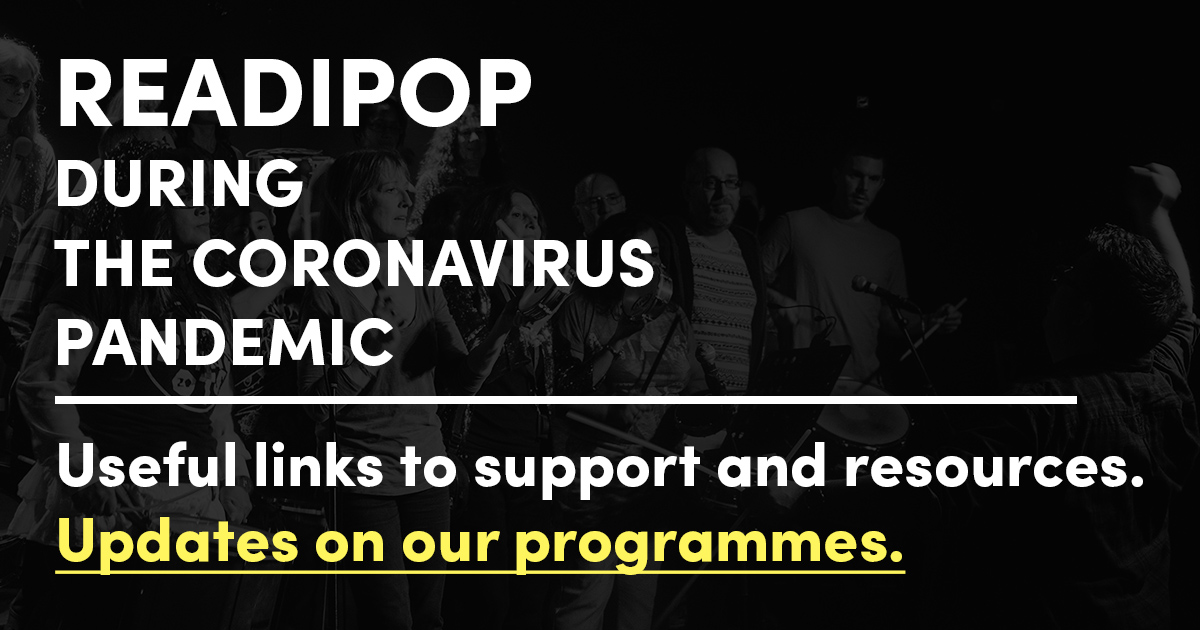 Updates on the effect of COVID-19 / Coronavirus on Readipop programmes,
 Links and Resources.
Please click the links below to access our free 'Creative Lockdown' resources for learning and creating music, or watch back Virtual Readipop Festival.
Scroll down to access updates on the Readipop Programme as it adapts and changes according to the latest COVID-19 related restrictions, as well as links to usefgul community and music industry support during these times.
Latest Readipop Statement:
20th April, 2021 –
READIPOP STUDIOS IS OPEN ON SELECTED DAYS – ONLY FOR 1-2-1 YOUTH SESSIONS.
We are piloting some community band sessions outdoors for current band members, were possible in line with our health and safety and COVID-19 policy. Where sessions are running, community band members have been informed via their facebook groups.
Follow Readipop's social media for updates on when other work will re-start in person.
You can find out more about Readipop and helping its work continue into the future by clicking here: https://www.readipop.co.uk/readipop-friends/
Readipop will update this page as regularly as possible with the latest on any changes to our programmes because of the coronavirus/COVID-19 outbreak.
You will also find our most up-to-date position on Readipop Festival in regards to the outbreak.
If you are a Readipop participant, visitor, user or community band member please keep a close eye on this page during the outbreak, or preferably on our social media channels, as this is the first place we will use to transmit updates to the public (and will likely be updated before this page).
Please use the drop-down menus for more information regarding the status of our programmes:
Community Bands - VIRTUAL SESSIONS ONLY
Readipop has adopted a 'social distancing' policy, and we have taken the tough decision to cancel all in person community band sessions until future notice.
Present band members for Moving On, Tea & Jam, Beatroots and The Small Strings have been attending online sessions ran and set up by Team Readipop and their Music leaders, to ensure we continue to reach out as best we can during this period.
*Tankata may be running their own sessions outside of work with Readipop during this time – find out more here.
1-2-1 Music Mentoring referral Sessions - Some Virtual Sessions run, hoping to re-commence in-person sessions as soon as possible in the next term.
Physical 1:1 sessions began Monday 19th April. If you are interested in referring a young person please contact us via email. 
Following the Prime Minister's announcement on the 31st October, Team Readipop has been working hard to assess the latest advice on what is allowed during the latest lockdown period (starting November 5th).
After pouring over the Government's own guidance, and that provided by the National Youth Agency, we have decided that there is no clear and definite indication that we are allowed to open, even for our most in-need participants.
For this reason, Readipop will be closed for the duration of the current lockdown for all activities, or until current laws and guidance changes. Any digital/virtual provision we have been providing since April will continue as before.
This difficult decision is bitterly disappointing for the team, as we had restarted our 1-2-1 Music sessions in the last week (operating for the first time since March), and were looking towards helping more in-need young people from Reading as we approached Christmas.
Our music leaders have been creating online resources during this period, which we will forward to schools and partners for students.
Latest statement on Readipop Festival - RESCHEDULED FOR 2022 / ALTERNATIVE 2021 EVENTS PLANNED
Please see our Readipop Festival social media for more information. Ticket holders will have been e-mailed.
Other Readipop Projects
Family Jam – CANCELLED
AAA Friday Sessions – Some Online sessions run for current attendees.
In the Mix – CANCELLED
Useful Links and Support during the COVID-19 Pandemic:
YOUR PHYSICAL HEALTH
LINKS TO SUPPORT, HOW TO HELP OTHERS + OTHER RESOURCES
Community Support and organising:
For those wishing to help, the Co-Op has a good list of ways to support the fight. Reading Voluntary Action are also looking COVID-19 response volunteers here.
Also for those who want to help is the Reading Mutual Aid for Coronavirus group.
This is a newly set-up volunteer organisation aiming to support the vulnerable and in need during C19 – those in need of support from them should call 07380248606. Fledgling groups have also been set up for Berkshire wide services, as well as in Emmer Green and Woodcote. Those in the wider area can find their local group here: https://covidmutualaid.org/local-groups/.
Nextdoor provides a great online hub to get to know and help neighbours, allowing those who sign up to offer assistance and ask for help to people in their immediate area.
The Citizens Advice Bureau are offering support on their normal range of issues via telephone (03444 111 306) after having to close their Reading offices.
Check Reading Borough Council Service updates for more on local services.
Click COVID-19 Related Scams advice, for help to avoid being scammed during this period.
Mental Health:
Self-isolation and social distancing will undoubtably affect some people's mental health badly. There is, however, plenty of support our there. You may also find support through the 'Community Support' links in the section above.

Launchpad: Reading's key homeless charity has moved to telephone services in replacing its normal homelessness drop-in, and is now also offering it 'Here for You' telephone line to deal with loneliness and signpost to other support (which is for Reading folk, homeless or not).  They currently offer support from 10.00am to 4.00pm, Monday to Friday on 0118 929 1111 or via support@launchpadreading.org.uk
BBC News have a handy article on protecting your mental health during the Coronavirus outbreak, as do rethink. Young Minds also has a number of blog posts with advice.
For kids, Childline have this explainer of Coronavirus, and how not too worry too much.
Scope have a helpline for those with disabilities here.
For older people, Silver-line have a 24hr support line providing information, friendship and advice at 0800 4 70 80 90.
Both Mind (Mon-Fri excl. Bank Holidays, 9am-6pm on 0300 123 3393or text 86463)and the Samaritan's (24hr hotline, 116 123) are still running their help lines.
For those who work/have worked in the Music Industry, Music Minds Matter also have a mental health helpline.
Jelly, the local arts charity, are holding 'virtual' versions of their events. With art being so important for people's mental health, we hope to begin similar practises soon.
Abuse:
Please contact 999 if you or others are in immediate danger.
We know more time at home can put some people at greater risk of abuse (in all forms), here's some links to help:
Refuge offer support for women and childrenexperiencing abuse via the 24hr National Domestic Abuse Helpline on 0808 2000 247.
Berkshire Women's Aid also have a hotline at 0118 950 4003 (9am – 5pm Weekdays, for non-emergencies) for women in abusive relationships (and a guide to what constitutes abuse here.).
Men in abusive relationships can find support here, and LGBTQ+ support locally can be found here.
Financial Support:
For those worried about their finances, particularly those on Zero-Hour contacts and the self-employed, this may be an extremely worrying time. Hopefully you can find some guidance from the below links:
The Government has, and is continuing to bring out need legislation and support to those financially affected by this outbreak.
For the latest on Government support, and new legislation to support those left financially vulnerable, please see here. DWP and Jobcentre advice can be found here. If you already receive welfare/'benefits', then see here.
As mention above, the Citizen's Advice Bureauis also available over the telephone for Reading residents on 03444 111 306.
 Both New Beginnings and Readifood run local foodbanks.
For debt advice, local charity Frontline are still offering support over the phone at 01189569300 and online through reading@frontlinedebtadvice.org.uk.
Supporting local business:
Edible Reading has an excellent Twitter thread detailing small local food/drink business operating through the crisis here.
If you would like to show others how to support their local music scene, please click this link for a downloadable file containing a share-able, multiple image post for Instagram on how the public can support Musicians, bookers, venues and organisations during these times.
MUSICIANS AND ARTISTS
Useful resources for Musicians and others in local music:
These times can be particularly challenging to those with existing (or emerging) mental health issues. Help Musicians also run 'Music minds matter', which offers mental health support to those in music via MMM@helpmusicians.org.uk or 0808 802 8008.
We understand that most musicians are self-employed, and many of you may work Zero hour contacts in order to facilitate growing your music careers. The Government are offering support for various workers.
Of course, it goes without saying that you should follow the latest advice from the NHS, and keep following health advice as set out by the government.