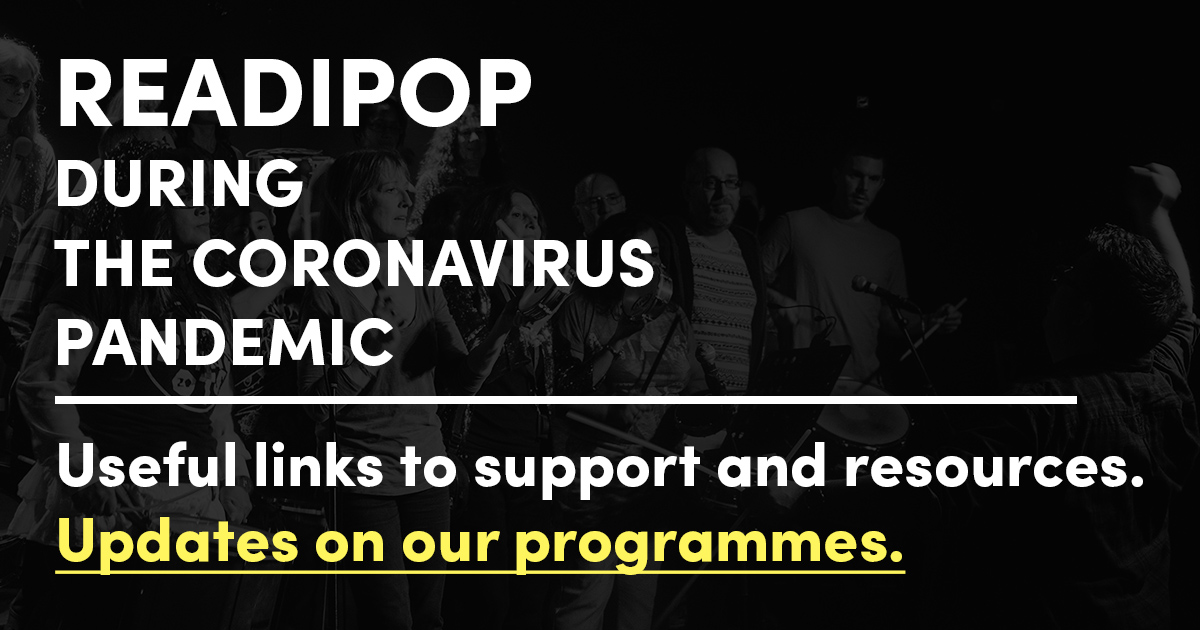 Updates on the effect of COVID-19 / Coronavirus on Readipop programmes,
 Links and Resources.
Readipop will update this page as regularly as possible with the latest on any changes to our programmes because of the coronavirus/COVID-19 outbreak.
You will also find our most up-to-date position on Readipop Festival in regards to the outbreak.
If you are a Readipop participant, visitor, user or community band member please keep a close eye on this page during the outbreak, or preferably on our social media channels, as this is the first place we will use to transmit updates to the public (and will likely be updated before this page).
Please use the drop-down menus for more information regarding the status of our programmes:
Community Bands - CANCELLED UNTIL SUMMER 2020
Readipop has adopted a 'social distancing' policy, and we have taken the tough decision to cancel all community bands until future notice.
Cancellation will affect Moving On, Beatroots, The Small Strings, Tankata Percussion and Tea & Jam.
1-2-1 Music Mentoring referral Sessions - CANCELLED FROM 23rd MARCH
We stopped all 1:1 sessions from Monday 23rd March.
We hope to recommence all 1:1 delivery as soon as we can do so safely. This looks likely to be in September 2020 although we may be able to offer some sessions sooner if  conditions allow. We can offer online 1-2-1 sessions.
Our music leaders will be creating online resources during this period, which we will forward to schools and partners for students.
Latest statement on Readipop Festival - RESCHEDULED FOR 2021
Message from Team Readipop:
"To ensure that we can provide the best quality and safest Readipop Festival possible under these unprecedented circumstances we are rescheduling to 9-11th July 2021.
This wasn't an easy decision to make. The money that the Festival raises plays such a large part in enabling our charity to help disadvantaged people in our community throughout the year, and is a summer highlight for many of our team, acts, suppliers and traders, and (clearly from the response so far) many of you.
We will be re-branding the festival as Readipop Festival 2021 and have asked all of the announced acts to play the rescheduled dates. So far, Badly Drawn Boy, Jesus Jones, Stealing Sheep, Michele & Romeo Stodart (The Magic Numbers), Nigel Clark (Dodgy), Transglobal Underground, Flyte, Imperial Wax and Sink Ya Teeth are among those who have confirmed. We still had more acts to announce and will ensure that the festival is just as good (if not better!) in July 2021.
Most importantly, current ticket holders' tickets are all valid for the new dates (including free kids tickets).
Finally, we cannot thank you enough for your understanding and patience in all of this. These are tough times for charities like ours and the only way in which we can hold a rescheduled Readipop Festival is with the support of all our existing ticket holders, friends and supporters.
We are so so grateful.
For any questions regarding the rescheduled festival or our charity, please contact us at festival@readipop.co.uk – We are working at reduced capacity at the moment so it may take a bit longer for us to get back to you.
Thank you again and please stay safe.
See you in July 2021."
Other Readipop projects - CANCELLED
Family Jam – CANCELLED
AAA Friday Sessions – CANCELLED
In the Mix – CANCELLED
Useful Links and Support during the COVID-19 Pandemic: