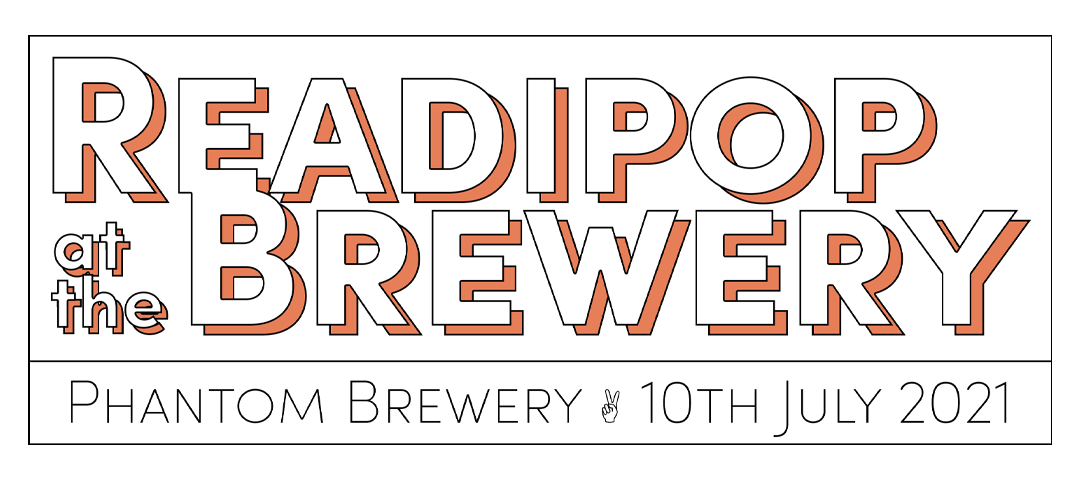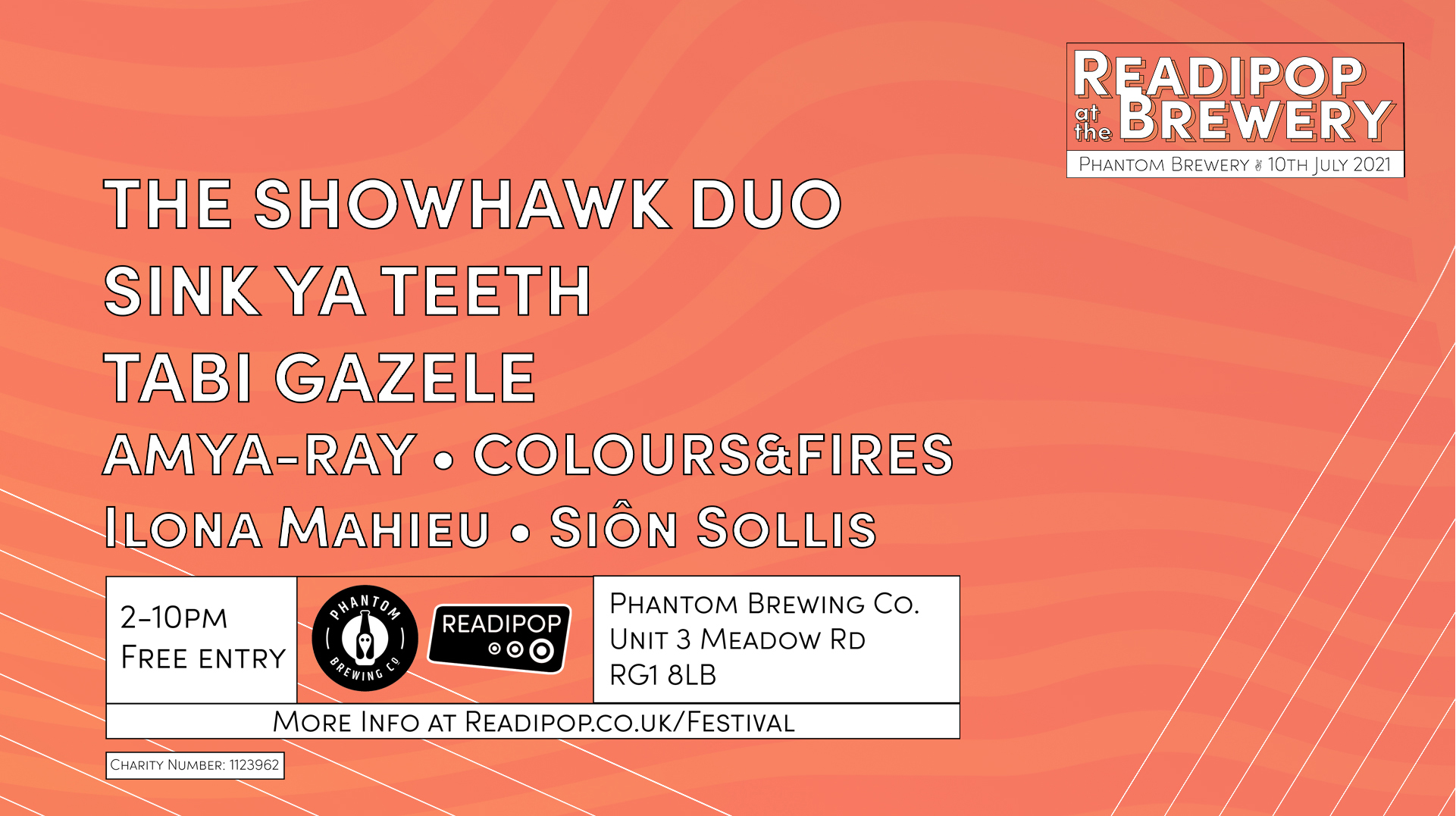 10th July 2021 - Phantom Brewery - 2-10pm - Free Entry - First come, first served
On Saturday 10th July, we head to Phantom Brewing Co. in Meadow Rd, Reading for a full day of music and fun. Live acts performing for us include acoustic guitar party starters The Showhawk Duo, 6Music supported "Post-Punk-Dark-Disco" duo Sink Ya Teeth and a super-talented selection of local acts including soulstress Tabi Gazele, singer songwriters Amya Ray and Siôn Sollis plus indie rockers Colours & Fires and Ilona Mahieu. In addition, we'll have street food, kids craft with Jelly and street performers. Doors open at 2pm and it's free entry on a first come, first served basis with music continuing until 10pm and the taproom closing at 11pm. If you can't make it down from the start, keep an eye on our social media as we'll be giving regular updates on capacity. For more information on our performers and other activities on the day, watch this space!
Say you're coming
The Showhawk Duo
Young British guitarists Mikhail Asanovic and Jake Wright, together known as The Showhawk Duo, have dazzled audiences worldwide with their spectacular approach to playing the guitar. Their playing style has broken down barriers between acoustic and electronic music. Whether playing old-school trance classics or modern funky house, their live show knows no boundaries and will leave you amazed.
YouTube videos from their spectacular live sets, including Daft Punk, Prodigy and Faithless medleys have been virally seen by millions and their last UK tour saw them play 2,300 capacity The O2 Forum in London and they headlined the Friday night of our first Readipop Festival in 2016. We cannot wait for them to play our first ever Readipop At The Brewery on 10th July!
Sink Ya Teeth
Maria Uzor and Gemma Cullingford formed Sink Ya Teeth four years ago in a pub in the flatlands of Norfolk, and write and produce all their music in their living rooms. Musically described as "Post-Punk-Dark-Disco", the duo have received continued support from BBC 6 Music, with 5 singles being playlisted and 'Two' was also "Album of The Day' on the station three days after its release. They recently collaborated with legendary Manchester band A Certain Ratio and we very much look forward to them closing our Phantom all-dayer.
Tabi Gazele
Nigerian-Australian Tabi Gazele has taken leaps and bounds in her musical journey, including hitting over 2 million combined streams through collaborations with Bliss N Eso, Lee Fields and Rufus Du Sol, before she relocated to the UK to pursue her musical dreams. Tabi Gazele's UK journey had a momentous start with her show-stopping Grand Final placement on BBC1's All Together Now before taking time to build at a grassroots level through performing intimate shows all over the UK, working closely with the iconic Sofar Sounds and becoming a Readipop D&D (discovery and development) artist..
Drawing comparisons to powerhouse singers such as Emeli Sande, Tabi's original pop-soul tracks, "Hurricane" and most recently, "Something To Learn" both debuted on BBC Music Introducing Berkshire and she has performed numerous times on the Introducing Live stage. From the continuous and growing support she has received, it is clear that Tabi Gazele's hypnotic melodies, thought-provoking lyrics and captivating presence are set to see her make her mark globally.
Amya-Ray
Amya-Ray is a Berkshire based singer-songwriter whose unique brand of ethereal-pop soul fusion is firmly rooted in everyday life. Her shows are intimate experiences, with songs and lyrics drawing directly from personal life experiences and delivered with unflinching honesty.  Amya-Ray captivates listeners through emotion and storytelling which takes them on a journey; drawing influence from acts as diverse as London Grammar, Warpaint, Erykah Badu, Lianna La Havas and Nine Simone.
Sion Sollis
Readipop artist and singer-songwriter Sion Sollis brings together introspective lyrics and songwriter's prowess and introspective lyrics. Sion will be familiar to Readipop Festival audiences from both 2019 and our virtual event in 2020 – where he gained new fans with his lush chord progressions and addictive choruses.
Colours & Fires
Acoustic Indie folk band whose songs gives an insight into a personal transformation across genders and relationships. Based in Reading, they are active supporters of LGBT+ equality, specifically around transgender rights and have supported Suede's Richard Oakes' ArtMagic and been an Official Artist for BBC Sounds Independent Venue Week 2020.
Ilona Mathieu
This Guildford indie-rock outfit wants to give you a little bit of everything, drawing influences from blues and prog to create their sound.
Expect warm dreamy guitar sounds, rich vocals, poetic lyrics, and drum and bass lines that pack a punch. It's an experience you won't want to miss.​
READING'S FRIENDLY HOMEGROWN MUSIC & ARTS FESTIVAL


IMPORTANT ANNOUNCEMENT REGARDING READIPOP FESTIVAL & READIPOP'S SUMMER EVENTS PLANS
We've been working hard to bring Reading a Readipop Festival in 2021 but despite our best efforts we cannot put on the event we'd hoped to run in Christchurch Meadows this July. The next Readipop Festival will now be on 8-10 July 2022 with Sugarhill Gang, Badly Drawn Boy, Jesus Jones, Stealing Sheep, Nigel Clark (Dodgy), Transglobal Underground and many more to be announced soon.
Existing weekend tickets remain valid for Readipop Festival 2022 and all existing ticket holders are invited to attend a smaller all-day event called Readipop Fiesta for free later this summer (if you are one of our valued ticketholders, please check emails from Eventbrite for more details). We also plan to mark the original festival weekend with a one-day event on Saturday 10th July and will announce details of this soon. Both these events are being made possible with the support of Arts Council England.
The decision not to hold Readipop Festival this year was a very hard one for us all at Readipop. As a charity which provides essential support to vulnerable and underrepresented members of our local community, we rely upon funding, Readipop Friends, donations and revenue from the festival to survive. Consequentially, the uncertainty and risk of a last-minute cancellation is not a viable option for us and makes it impossible to plan our three-day event this year.
We share the disappointment of everyone who was looking forward to returning to the banks of the River Thames with us in July and will be making further announcements about tickets and the full line-up for Readipop Festival 2022 later this year. We also want to thank the many ticketholders, Readipop Friends and donors who have helped support us through what has been a particularly difficult year for the charity sector.
To become a Readipop Friend or to find out more about the work we do as a charity working within our local community, visit our website at https://readipop.co.uk/readipop-friends
Team Readipop x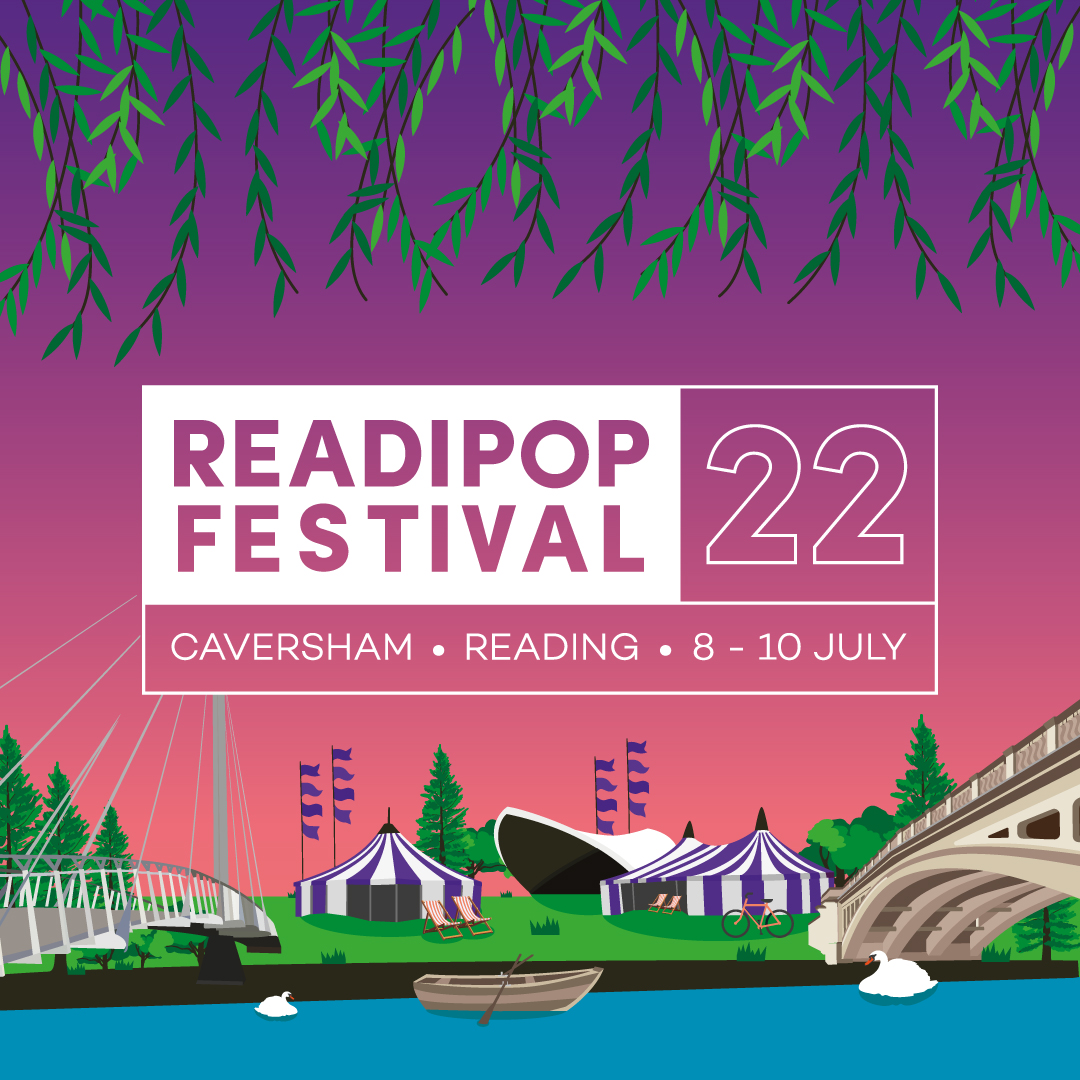 Already Confirmed for 2022:
Sugarhill Gang | Badly Drawn Boy
Jesus Jones | Stealing Sheep
Nigel Clark (Dodgy)
Transglobal Underground
Current Festival ticket holders should check their e-mails for some very exciting plans for this summer!!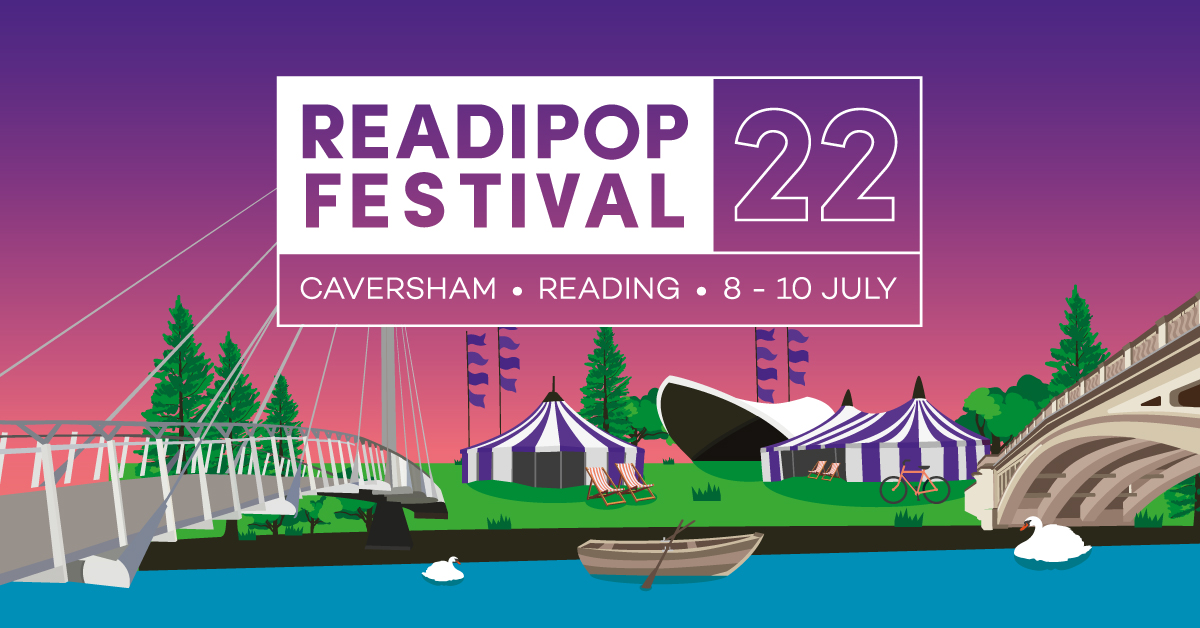 Already Confirmed:
Sugarhill Gang | Badly Drawn Boy
Jesus Jones | Stealing Sheep
Nigel Clark (Dodgy) | Transglobal Underground
With all profits going to Readipop, Readipop Festival brings big names, promotes local talent and maximum fun to Caversham's Christchurch Meadows, all whilst helping a great cause.
____
Previously featuring stars and chart-toppers including The Orb, Sleeper, Audio Bullys, Cassetteboy, Musical Youth, Blockheads, Goldie Lookin Chain and Mark Chadwick of the Levellers, as well as BBC 6Music staples Ibibio Sound Machine, Man & The Echo, Vaudou Game and the Hackney Colliery Band; the Festival brings national and global talent to Reading. This is alongside promoting up-and-coming acts like Saltwater Sun, Valeras and countless others. Even Reading Elvis has graced the Readipop Festival stage!
The Festival also features a growing children's and family area, roaming performers, multiple workshops, arts and crafts traders, bars and award winning food.


With many thanks to our funders for supporting our festival
Want to keep up to date with the latest
l

ine-up news?
Sign up to our festival newsletter